Live Recording
2009.01.09 Friday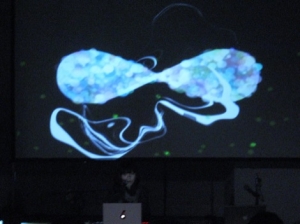 昨年10月に行われたワールドツアー 最終日
Send + Receive フェスティバル v.10(カナダ、ウィニペグ)での
Moskitooのライブの模様が、カナダ国営放送、CBCで放送されました。
オンラインでも、下記リンクより全曲(!)視聴することができます
よかったら聴いてみてください*
+
Moskitoo @ Send + Receive v.10
TRACK LISTING FOR THIS CONCERT
1 Shaggy
http://www.cbc.ca/radio2/media/20081024moski/01.asx
2 Terrier
http://www.cbc.ca/radio2/media/20081024moski/02.asx
3 Cementomoment
http://www.cbc.ca/radio2/media/20081024moski/03.asx
4 Skie / Wham Whammy
http://www.cbc.ca/radio2/media/20081024moski/04.asx
5 Tracing of Dream
http://www.cbc.ca/radio2/media/20081024moski/05.asx
PLAY ALL TRACKS
http://www.cbc.ca/radio2/media/20081024moski/all.asx
+
Recorded: Oct. 24, 2008
Venue: Urban Shaman Gallery, Winnipeg, MB
Genres: Contemporary
Visual Work : Takafumi Tsuchiya
Photo : eryn thorey mackenzie , colin Mackenzie
-----------------------------------
Send + Receive is an international festival based in Winnipeg, MB that has been advancing the discipline of sound art for ten years.Moskitoo was one of three artists the CBC recorded at the fest.
Moskitoo is Sanae Yamasaki, a sound and melody artist and graphic designer in Japan. She began making music in 1997 playing guitar and small casio keyboards in various bands in Sapporo.
In this concert, Yamasaki's gentle, airy vocals play off of broken beats and aqueous sound drops evoking half-awake memories lost and found.
text by CBC (
http://www.cbc.ca/radio2/
)
-----------------------------------